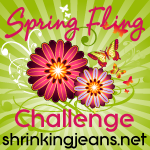 Challenge Starting Weight: 155.2

Last Week's Weight: 149.6

This Week's Weight: 149.2

Loss This Week: .4

Loss for Challenge: 6.0

Total Pounds GONE: 16.6 !!!!!
This has been an excellent challenge for me. In the past 8 weeks, I've lost 6 pounds! I also completed the 30 day shred and saw some serious shrinkage. I'm in the home stretch of training for my 10K (freaking out a bit, but that's a topic for another post).
The team format was exactly what I needed, only I didn't realize how much when the challenge began. I have received such tremendous support from my H3 teammates (really the entire sisterhood)-both on the weight loss front and through the serious illness and loss of my step-dad. I don't know how I would have coped without their prayers, love, and support. You ladies are truely The Hottest Hookers in the Hood!
This sisterhood is about so much more than fitness and weight loss. It's about developing life-long friendships. I treasure these girls more than they can possibly know. I hope to one day give every one of you a real, live hug. But until then, please accept this giant hug through cyberspace. ((((HUG)))) I love all of you.