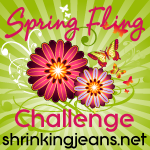 Challenge Starting Weight: 155.2

Last Week's Weight: 150.8

This Week's Weight: 148.8 (I'm in a new decade!!!)

Loss This Week: 2.0

Loss for Challenge: 6.4

Total Pounds GONE: 17.0 !!!!!
I honestly have no idea how I pulled this off this week. The past 5 or 6 days have been an emotional and physical roller coaster. I have eaten CRAPOLA for nearly every meal since last Thursday, including McD's, Wendy's, Chinese, hospital food, Subway (ok, that one is actually pretty good), Dairy Queen, and the best pizza in all of St. Joe at my Dad's last night. I did manage to get 2 good runs in during that time, totalling almost 11 miles, but I haven't shredded a darn bit. I seriously thought about not getting on the scale this morning and using my weight from Monday before I went down to my Dad's, but I figured that wasn't really being honest with myself or my team, so I stepped on the scale this morning.
The scale said 148.8.
I am officially in a new decade.
I few more pounds and I have to vlog again (oh sh*t).
Tomorrow is my 15th Anniversary. The hubs and I are going to Chicago for a couple nights of brewery crawls, big dinner, and sushi. At least I'm going to be walking my arse off up an down Michigan Avenue in the process and I get to start the week with a nice loss :) Yesterday he was giving me a hug and said, "You feel so skinny. Your ribs are sticking out." Funny guy.
I am also glad to report that my Step-Dad is currently camped out in his favorite chair in front of his big-ass TV. He was released from U of M Hospital Tuesday afternoon and transported by ambulance back home. It was a very rough 2 1/2 hour drive and getting him up the stairs required a special chair, the 2 EMTs and my hubby (Bob weighs over 300 lbs and could not walk the 16 stairs). I'm so glad Mike was there to help because I don't know how they would have gotten him in otherwise. It was so nice to sit there with him, my Dad, Mike and his daughter last night watching Biggest Loser. I didn't Tworkout. I enjoyed the moment. Hospice was there last night and they were planning to come by again this morning. I need to call Dad and see how the night went, but I wanted to get this blog written so I could update all of you who have been so supportive over the past month. I love you all.
Bari