Here we are at the end of week 6 on our
Shrinkingjeans
Shrinkvivor challenge! Someone is going to win a pretty sweet prize package very soon, but unfortunately, it won't be this shrinkvivor. Tribe Navy Seals managed to be in the bottom 2 for weight loss last week, so we have all been banished to Exile Island. At least the company is nice there :)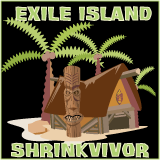 Last week I posted a bit of a gain. Let's get to the numbers and see if I've recovered:
Weight on June 23, 2009: 165.8
Challenge Starting Weight: 141.6
Last Week's Weight: 139.0
This Week's Weight: 137.4
Change This Week: down 1.6 yeah
Change For Shrinkvivor Challenge: down 4.2
Total Pounds Gone: 28.4
Well, I managed to lose the 1.6 that I gained last week. Yippee. Pure dumb luck mostly. I haven't been watching my food or liquid consumption and I haven't been exercising much since I finished my half. I did manage to log 116 minutes of exercise, but to be honest, it doesn't feel like enough. I'm a little lost now that I don't have a race to train for. Last night, one of my girlfriends hauled my sorry butt to the gym and we did a 45 minute swim class and swam for 15 minutes. Then, I came home and did the tworkout. Totally crazy, but maybe this will be my Tuesday night plan (at least until K's diving meets throw a wrench into it).
So how did everyone else do? Hop on those scales and head over to Shrinkingjeans and let us know!