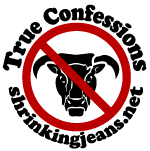 The Good:
The Bad:
I did some serious carb-loading before-hand, and since I didn't really eat much at all after the race to combat the 2000+ calories I burned, my body thinks it is starving and I'm having to force myself not to eat everything in sight. It's been a couple days. I think the starvation-factor should have worn off by now.
The Good:
I put in 2 hrs, 27 min, 52 seconds towards our Shrinkvivor challenge.
The Bad:
I can barely move today and will probably have to miss the Tworkout. Seriously, I'm sore in places I didn't even know I had muscles. I also haven't tracked food or gotten in enough fruits or veggies. I'm most likely going to be up this week and headed to join my friends on Exile Island.
The Good:
The Fat-Goggles came off for a few seconds while looking at some pictures of myself while working on my race recap. I also joined the Exposed movement (although the fat goggles have a hard time looking at my own post).
The Bad:
I'm fighting the belief that the skinny pictures are all smoke and mirrors and good angles. (I'm a work in progress. Yesterday I wore pants that were WAY too big and no less than 4 people commented on how much weight I had lost and that I needed to go buy some more pants. Today I feel puffed up and huge. I don't get it either.)
So, in 10 minutes or less, those are my confessions.
PS: Did you see that adorable little boy over there on my blog, just a bit to the left? He is the most amazing little guy EVER and wants to save the world, one glass of drinking water at a time. Please click his button and show him some love.
PSS:
Shrinkingjeans
has an awesome giveaway going on right now with Girlz N Gear. You can try and enter, but I'm going to win, so it might just be a waste of your time. IJS. I REALLY need a 13.1 shirt now.