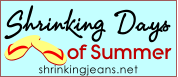 Short and sweet post this week. I'm working my tail off unfortunately not literally doing some coverage therapy and I'm pooped. It is also freaking HOT here in West Michigan this week. Temps in the 90's with humidity between 50 and 85% (my run this morning was so hot I felt like I could wring out the air). Because of the heat and the holiday weekend, I did not get the results I would have liked on the scale.
Here are my stats for the week.
Weight on June 23, 2009: 165.8
Challenge Starting Weight: 146.8
Last week: 144.2
This week: 145.2
Change: up1.0
Loss For Challenge: 1.6
Total Pounds Gone: 20.6
Yep, I gained back the pound I lost last week. Suck. I really made pretty good choices most of the weekend and tracked everyday except the 4th. I found out my
favorite summer beer
is almost 200 calories, which was a shocker, but I counted every one of those calories, dammit. I think it's the heat and humidity that has done me in this week. I feel like a bloated and frizzy mess. One benefit to all this crazy heat: the Lands End swimsuit I won from Shrinking Jeans finally made an appearance this weekend. I even went swimming.
For those who know, I am a decent swimmer but more of a "relax by the side of the pool with a cold one" girl.
More about my great new suit in another post :)
My 10k is a week from Saturday and I'm panicked about the hot/humid weather. 3 miles on Monday and 2 miles this morning in this crap just about killed me. 6 is going to be hell. Literally, I'm afraid. Granted, this is Michigan, and you know what they say: "If you don't like the weather, wait a minute, it'll change."
So how did everyone else do this week? Was the scale nice to you or did you want to chuck it out the window like I did? Link up over at the
Sisterhood
and let us know!