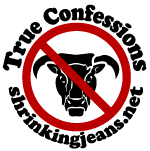 Today is Tuesday again and we get to air out our transgressions for the blogosphere to see. I get a little Debbie Downer-ish near the end, so you can stop reading at the "good" if you want. Really, that's probably best anyway.
I decided to go with an Eastwood reference this week since this damn tune has been running through my head (thanks, Mike):
The Good:
I finished my 2nd 10k race this year with a PR (a whopping 13 seconds faster than my 1st one). If you'd like to hear more about it, go

here

. I felt TONS better after this race than I did after my first 10k back in May. I felt like I could've even run yesterday, but gave myself a little more rest time.

I've done the Shred for the past 2 days and my arms and legs are killing me.

I've selected a training program for a 1/2 marathon that will fall in the middle of October.

I bought a pair of pants yesterday at New York & Co in a size 6. I was wearing the exact same style of pants from there last year in a size 12.
The Bad:
After said 10k, I proceeded to eat anything I could stuff in my mouth. I did this for a few days before the race, too. This coming off of a 2.4 lb loss last week. Hello, McFly! Can you say sabotage?

I ate pizza 3 times last weekend, had a beer after the race, and went to a movie 2 nights ago and ate popcorn and lots of pretzel M&M's. I continued to grab M&M's every time I passed the open bag at home. It wasn't a small bag and now they are gone. I also ate some of Mike's plain M&Ms.

I haven't run since the race.

Because of the shred tearing up my legs, I'm afraid I won't be able to run tomorrow, but I'm going to try.
The Ugly:
My race number from Saturday is what I've had in the back of my mind as my "goal weight". I haven't publicized this goal anywhere up until now. Maybe the race number was a sign that I need to admit I'm getting close, but it still seems so far away. This was the weight that I maintained for 6 years after losing 50 pounds with Weight Watchers but I just can't break through the 140s right now. I'm hoping I can get there again (and soon) but I don't seem to be making much progress lately. Maybe it's the damn pizza and M&Ms. This is in the "Ugly" category because in my twisted mind, 138 isn't going to be good enough.
Even though I bought new pants this week in a size smaller than I have ever worn, and the fact that the swimsuit I won from Shrinking Jeans and Lands End is also this size, I can't consider myself a "6". The majority of my "new" clothes are a size 8, which is still awesome and some of them have even gotten a little big. Why is this in the "Ugly" category? Even with this great non-scale victory, all I see are the areas that still need major work. I still see a fat girl staring back at me from the mirror. I see saggy skin

that makes me want to vomit

hanging from my stomach when I do push-ups or planks. I see thighs that rub together. I see bingo wings. I was overdressed for my last race (and almost overheated and ill because of it) because I don't have the confidence or skinny thighs to just run in a sports bra and shorts, even though it is 85+ degrees outside. This week's mini-challenge from

Shrinking Jeans

is to "SAY or DO 3 positive things for yourself. That would be 3 things a day x 5 days. " I'm trying, but I just can't and some days that makes me want to cry. I hope you all forgive me for the Debbie Downer attitude, but there you have it. I have my annual OBGYN appt next week Friday and I'm afraid of what my doctor (nurse practitioner, actually) is going to say. Will she be thrilled that I've lost almost 25 pounds this year, or will she say it isn't enough? Because in my mind, my efforts will never by good enough. I turn 40 in less than a month, and I haven't reached my goal yet. Should the number on the scale matter, no, but again, my twisted mind strikes again. I need some help from you ladies. Please smack some sense into me. Seriously. I need a good ol' fashioned dope slap. Pronto.