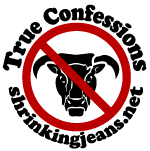 I really don't have it in me to do much of a post today, so I apologize for the bullet points.
I've actually made half-way decent food choices this week, except for a few minor slip-ups.

I made homemade salsa on Sunday with a jalapeno from my garden and other veggies from the farmer's market. It was delish (although the pepper wasn't quite ready yet-no heat).

The downside to homemade salsa? The chips that go with it. I've eaten over 1/2 a bag of Tostidos Baked Scoops since Sunday. At least they are the baked variety.

Our blender died. The one we got as a wedding present 15 years ago. I had to buy a new blender.

The downside to a new blender? I *had* to make margaritas last night just to make sure the blender worked. Yes, I drank a big-@$$ margarita last night.

I've taken this tapering thing before a race to the extreme. I ran 5.5 miles on Saturday. They sucked, so I haven't run since. I was supposed to do 2 miles yesterday and a 30 min cross today, but they haven't happened. We are going to my friend's pool this afternoon, maybe I'll swim a couple laps. Or maybe I'll just take a nap in the floating lounge chair. I am going to run 3 miles tomorrow morning, even if it kills me.

I am trying to finish up a grad class. It's one of those distance learning ones where you are totally on your own and have to get everything done by the due date. Yeah, apparently I'm not as self-motivated as I thought I was. This class is kicking my butt, but I have to get it done or I'm out mega $$. I'll be typing up my paper tonight while K is at gymnastics.

I'm feeling melancholy. I have no energy. I have a headache. I'm going to the pool now.