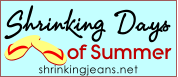 Today is Wednesday, so that means it's the day we all dust off our scales (or in my case hop on like I do every freaking day) and report to the
Sisterhood
our ups and downs. How did you do this week? Feel like hugging your scale, or pummeling it with a sledgehammer?
Here are my stats for the week.
Weight on June 23, 2009: 165.8
Challenge Starting Weight: 146.8
Last week: 145.2
This week: 142.8
Change: down 2.4 (seriously?)
Loss For Challenge: 4.0
Total Pounds Gone: 23
I was pretty sure I was going to have a good weigh-in hello, I obsessively weigh myself everyday but was pleasantly surprised by how much I lost this week. This tends to me my body's usual M.O. Lukewarm ups and downs and then a big loss. This means I will probably be up a smidge next week, but that's ok. I didn't set a specific weight loss goal for this challenge, but I'm still holding out hope I'll be below 140 by my birthday in August.
If you read my
confessional
yesterday, you know I was feeling pretty blah this week. I've had a lot on my plate and was feeling overwhelmed (Kim nailed it in her comment). Today is definitely a new day. I finished all the requirements for my 2 grad classes last night - Yeah Me! - and I just need to make copies and take it to the post office. I had a pretty good run this morning and have accepted the fact that Saturday's 10k is going to be a completely different race than my first 10k back in May. I'm just going to enjoy the amazing scenery (the run is along Lake Michigan's bluff and beach, complete with the requisite lighthouse view) and do my best. I'm sure I'll tweet about it and post the results to daily mile when it's over, if you are interested on how I did. I've thought about vlogging it, but the flip is pretty full of kid-fun right now. We'll see.
PS: I need your help. I'm working on a new playlist for the race and have $25 burning a hole in my itunes account, so send me your favorite running or workout tunes!