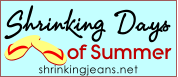 I can't believe this challenge has reached week 8 already. That means summer is almost over and I'm going to be getting old and going back to school soon. But before those tragedies happen, today is Wednesday, so that means it's the day we all hop on our scales and report to the Sisterhood our ups and downs. This is the end of our challenge. Did I end on a losing note? I sure hope so.
Here are my stats for the week.
Weight on June 23, 2009: 165.8
Challenge Starting Weight: 146.8
Last week: 142.8
This week: 142.4
Change: down .4 (I'll take it)
Loss For Challenge: 4.4
Total Pounds Gone: 23.4
Looks like this was a pretty successful challenge for me, weight-wise anyway, although I haven't exactly reached my goal yet. I finished my
2nd 10k
in unbelievably horrible heat, but still managed to feel pretty good afterwards. I even ran 3 miles today but decided it is getting way too hot/humid at this point in the year to be running when I am. Something will need to change or I'm going to end up with heatstroke. If you read my
True Confession
post yesterday, you know I am still struggling with a major case of the "fat goggles". I'm having a very hard time seeing the progress I've made. I'm working on trying to focus on the positive, but that is very hard for me. Luckily, I have some pretty awesome Sisters here who are ready to bitch-slap some sense into me. The comments yesterday meant the world to me. I love you girls, you know that, right?