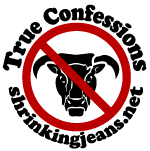 I feel this true confessions post is best completed in pictures. I apologize in advance to my Team Phab teammates for what last week's debauchery is going to do to our numbers on Wednesday.
Sweet Tea Vodka with Pomegranate Lemonade
Roasted Beet Salad with Goat Cheese and Candied Pecans
Little Baby Desserts
Blackened Mahi Mahi (ok-this was probably a good food choice)
More Little Baby Desserts
Freakishly Good S'Mores
Key Lime and Coconut Custard Creme Brulee
Angel Food Cake Banana's Foster
Good German Beer
Drinks in the Resort Lounge
More German Beer (this one jumbo sized)
Mickey Rice Crispy Treat
That being said, I had a fabulous time at Disney World with my family and have gotten right back into the routine. I did a strength workout on Sunday, ran 3 miles on Monday, saw a new chiropractor on Monday who spent an hour beating up my IT bands, glutes, hips, and quads (turns out I have very weak glutes which are causing my quads to work overtime and pull my ITB and thus my knees out of alignment). I now have exercises to do every day. Yes, they hurt like hell.
The Happy Family