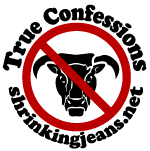 This is going to be short for a couple of reasons. 1) I've actually been pretty good this week, but my daily weigh-ins aren't showing it and it has me really pissed off, and 2) because of said pissedoffness, I don't want this to turn into a giant bitch session. Here are my confessions:
My twins turned 13 this weekend and we had 2 parties (the friend party and the family party)

At the friend party

I had pizza. But I only had 1 piece (I would normally eat 2).
I had ice cream. But it was a small hot fudge sundae with spanish peanuts instead of some giant flurry thing AND we biked 8 miles round trip to get to the ice cream shoppe.
The next morning I ran 5 miles.

At the family party

I really only ate the one meal that day cuz I wasn't hungry for dinner
I had a hamburger on the grill, but used lite mayo and no cheese
I had a brownie and ice cream
I didn't eat any chips

The brownies are finally gone. Of an entire 9x13 pan, I had 2, maybe 3 brownies total.
I was starving last night while waiting for K to get done with gymnastics, but instead of raiding the vending machine, I drank water and bitched about it over twitter. For dinner, the rest of the family had hamburgers and I had a Boca. I did eat some of the Ore-Ida fries we baked in the oven but also had a big salad. It just sucked because all this food was at 8:30 at night. Only a couple more weeks of this stupid summer gymnastics schedule where practice is right at dinner time (5:30-7:30 at night).
I've been drinking tons of water, but it doesn't seem to be doing me much good on the scale.
That's it. I hope you all are feeling better about your choices and are actually thinking you'll see some positive (or negative as it may be) changes in the scale tomorrow.