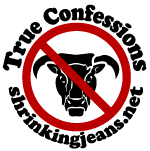 This has been the week for sabotage. Last Wednesday, I was less than a pound away from the 25 pounds lost mark. Since then, I've acted like a piranha on a feeding frenzy. Forgive me sisters, for I have sinned. Here's the breakdown:
movie theater popcorn without butter (about 650 cal in a medium)
pretzel m & m's (1260 cal in the whole bag)
Twizzlers (1600 cal in the whole bag)

These 3 items were shared, but I have to admit I ate WAY more than I should have.

pizza (it was homemade, but had sausage and lots of cheese)
margarita (or two)
assorted chip-like thingies (mostly pita chips)
Deep.Fried.Pickles.With.Ranch (OMFG they were A.MAZ.ING)
kraut dogs (but minus the dogs due to the food porn on the last bullet point)
tater tots with blue cheese sauce (ok-my hubs ordered this at lunch on Sunday and I had to try a few)
leftover homemade pizza (it's gone now, thankyouverymuch)
my daughter made homemade brownies again (it would have been rude not to have one, or more)
I haven't logged my food in over a week.
A few good confessions:
I officially registered for my 1/2 marathon
I've been really pushing the water
I've run 10 miles since last Tuesday
I had my annual "girly" checkup and I'm down over 20 pounds since last year. She didn't even feel the need to order any labs this time, except for one:
I got a mammogram today. Just a reminder to all of you approaching that age (yeah, turning 40 sucks ass), you gotta watch out for your girls.
I've been better since Sunday, but I fear it's too little, too late. Going into the new Down and Dirty challenge with a gain is going to really suck. Sorry Team Phab.