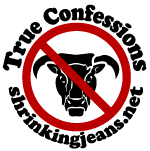 This edition of True Confession Tuesday is being brought to you by my water bottle. Excuse me while I make another trip to the bathroom.
I've always been good about getting in my water (at least 80 oz a day is typical), but with our water challenge going on, I'm getting closer to 100 oz now. I seriously think my eyeballs are getting a little loose and floaty in my head.

I logged 21 miles on dailymile last week. 17 of that was running and 4 was walking. Did you hear me? I LOGGED 21 MILES LAST WEEK! (Only 12.5 has counted for our mileage challenge, but still!)

So far this week because the stupid site goes back to zero on Mondays and I've been sick I'm sitting on a big 'ole goose-egg. I hate the zero Monday. Drives me up a freaking wall, but it also motivates me to erase that zero as quickly as possible.

I listened to my body this week and went to see my doctor about the breathless feeling I've had for over a week now. She ordered a chest xray and some other tests, as well as an inhaler.

I've only used the inhaler once because it scares me a little. I plan to use it if I feel up to running tomorrow.

I'm trying not to stress too much about missing a relatively long run today (I was supposed to do 60 minutes, or about 5.5-6 miles, but there was no way that was happening if I couldn't breathe). I must get/stay healthy for my 10 miler this weekend and my 1/2 mary on 10-17-10.

My MIL is staying with us for awhile (1-2 weeks) since having surgery. I'm trying to stay positive and not stress about the issues we are having with the food choices in the house. I'll be shopping later so she can have some stuff that she likes.

I feel a little weird about working out with her there. I don't know why. She thinks all the running I do is crazy which it probably is and maybe I don't want her to be critical of me. I'm thinking the Tworkout is out of the question while she's there. That would just be weird. I have no idea how I could explain it so she'd understand.

I've done really well with making healthy food choices and even logged food on dailyplate most days this week.

With all the mileage, water, and good food choices, the scale does not appear to have budged at all. That frustrates me, even though I know being healthy isn't all about the scale. We are in a weight-loss challenge right now and I've been at this plateau far too long. (On a positive note, my doctor commented on how much weight I've lost and the radiology tech called me "tiny" cuz she had a hard time lining me up for the side view xray.)

I've really enjoyed "meeting" some new friends through Shrinkingjeans this week. My Tribe Navy Seals teammates-they freaking ROCKED the mileage challenge this week. Seriously. I don't know where they get the time or energy. I love you girls!