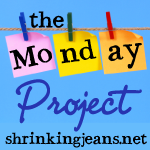 This month, the Sisterhood of the Shrinking Jeans has asked us to look outside of ourselves. In their words, "This month's project has nothing to do with ourselves and everything to do with other people. It's not about weight, it's not about confidence, it's not about eating this or that. It's about giving. Because it's the season of giving."
We have been very blessed as a family. We have a beautiful home, drive nice cars, have jobs that pay the bills and provides health insurance, can send our kids to music and sports camps, we can take vacations every few years. These are luxuries that many in our community do not have. The unemployment rate in the state of Michigan is at 12%. 12%!!! Over a tenth of the population is out of work. 51% of the homeless in Michigan are adults and children in families. This saddens me like you could not believe. I used to work for a school district in which the majority of students came to school without appropriate winter clothing and over 75% were below the poverty line.
On the last Sunday of every month, our church provides a
community pancake breakfast
to any who would like a warm breakfast. This year, the last Sunday of the month happens to be Christmas Day. Our family will be helping to serve breakfast this year. I feel it is important for D and K to give back and look outside of themselves for a change. In addition, K and I will be making fleece mittens to donate to the church. (Now, if anyone knows me, they know I am not a crafty person and barely know how to turn on my sewing machine, but if I can give of my time and churn out a few mittens, I'll give it a shot).
I encourage everyone to find a way to help in their own communities this holiday season. Next time you are in the mall and there is a 50% off sale or BOGO on coats (it happens a lot at Old Navy, btw!), buy an extra coat and donate it to a shelter. Find an elementary school and offer to sponsor a student or family. In August next year when all the school supplies go on sale, buy a backpack and fill it with supplies for a student who would otherwise go without. These are just a few ideas. Also, if you could click over on BB's button over there <------------- and help a little boy provide clean water to parts of the world without, that would also mean so much.