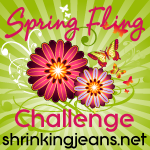 Challenge Starting Weight: 155.2
Last Week's Weight: 152.8
Today's Weight: 150.8
Loss This Week: 2.0
Loss for Challenge: 4.4
Total Pounds GONE: 15.0 (I have a new button!)
I've managed to lose 2 pounds this week, in a week where I was hoping to maintain. Clearly, my body is going to do what it wants, when it wants.

I'm not completing all the blog challenges (true confessions, monday project, etc), because frankly, I can't deal with adding anything else right now.

I have shredded every day for the past 17 days.

I have continued my c210k training, but on the advice of a running coach and a very good runner-friend, I am backing off on the distances a little bit. As my friend said, "It's better to be under trained than over injured." I'm still having tons of shin pain, but it seems to be a little more manageable.

Family matters have added much stress and anxiety to my life at the moment. I am blessed to have my beautiful sisters here at the sisterhood for support. I am also blessed that I have the outlet of exercise. In years past, I would have probably just turned to ice cream for comfort.
My family continues to need your prayers. My dad's partner's cancer appears much more advanced than they originally thought. He needs a procedure to unblock a liver duct and drain fluid from his liver. This is a procedure his local hospital attempted a couple days ago but could not complete. His pain is also worse and the morphine is no longer effective (they've put him on something else, but I don't remember what it is.) They were also unable to get a sample for biopsy, so we still don't know exactly what type of cancer we are dealing with. As I write this, we are awaiting a bed at University of Michigan Hospital, where, hopefully, they can successfully complete this liver procedure, do the biopsy, and get his pain better controlled. He also has a daughter who is really struggling right now. She does not have a good support system in her mother and grandmother (they are quite toxic, actually) and she is devastated at the thought of losing her dad. We have also not told my children yet. I'm waiting until we hear more about prognosis and treatment, either that, or I'm just too scared to tell them. I do feel the prayers from all of you and appreciate all of your good thoughts and love. Thank you.