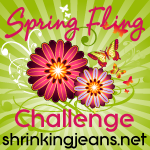 Challenge Starting Weight: 155.2
Last Week's Weight: 150.8
This Week's Weight: 150.4
Loss This Week: .4
Loss for Challenge: 4.8
Total Pounds GONE: 15.4
I was hoping to hit a new decade this week, but considering the craziness that is my life right now, I should be rejoicing over a .4 loss. I did not track calories all weekend (actually just started tracking again this morning) and have run since last Friday. Even with all the travel between the hospital, my dad's place, and home, I've managed to keep up with the 30 day shred, so I'm at least getting a little bit of exercise in. It is fairly nice today and I'm hoping to get in a short 3 mile run in between taking my daughter to the doctor and then getting her to gymnastics. I am feeling a bit guilty about not getting in my training runs, but it is what it is. I have an extra week built in and really had no intention of taking the c210k all the way to the end with continual running. This week's ratio is 5:1, which for me sounds about perfect. We'll see how I feel about it after I try it this afternoon, though.
For those of you who have been praying for my family, thank you from the bottom of my heart. It means the world to me to know that you are out there thinking of us. We did tell the kids about Bob this past weekend and they have taken it pretty well so far. They were able to visit with him on Sunday for a little while and he was looking pretty good, all things considered. The biopsy confirmed stage 4 pancreatic cancer that has spread to his liver and probably his upper colon. He's having another CT scan later today to compare with his CT from a couple weeks ago. Bob is still at U of M and we don't have any treatment options outlined yet, but they are doing what they can to keep him comfortable. We did get good news today that his IVC filter (a screen to keep clots from the lungs) is positioned correctly and won't need to be revised, so that is one less procedure to worry about. On the downside, he has developed an infection which requires gown and gloves and has some fluid in his lungs. My dad and Bob are hopeful that he will be able to go home possibly this weekend.
My dad is doing much better, too. When we were down on Sunday, my hubs and I convinced him to let me drive him back home (about 2 1/2 hrs) so he could get some rest. He seemed much more relaxed and rested after spending the night in his own home (he'd been staying with Bob's daughter but couldn't get any rest at her house). We also convinced him to stay in the Inn that U of M has for family members and he slept there Tues and Wed night. Today he told me he is driving home again tonight. I'm glad he is seeing that he needs to take care of himself before he will be able to take care of Bob.
Again-thank you all for the prayers and positive comments. I love you all. *hugs*
Bari