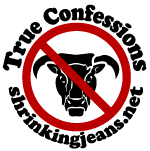 So, up until today, I really didn't have anything to confess. I've been doing great with my water and getting in some decent exercise. But today....
Spent the entire morning at the Allergist with my son, finding out he's highly allergic to dust mites, cats (sorry Squirt but don't worry, you aren't going anywhere), dogs and of all things horses (kinda makes the reaction he had when we went horseback riding a couple years ago make sense). He's had symptoms for years but we've always put off this testing.
Sign me up for mother of the year.
After the appt-I took him to Max and Erma's for lunch. Ordered fairly healthy for me: black bean veggie burger and a salad with balsamic. However, I ate the tortilla soup
with all of its spicy tortillay cheesy goodness
that came with his meal (but only 1/2 of it), a couple of his fries, a couple bites of his cookie and a couple bites of his sundae. Oy. Why do I feel compelled to finish what my kids don't eat? Seriously.
Like I said, up until this point, I'd been really good all week. I even ran 3 times for a total of almost 9.5 miles last week and biked yesterday for 10.6 miles. Planning to run today, but it's raining (again) and...
This afternoon has been buying cases for his mattress and pillows (holy expensive, batman!) and cleaning his room. It's no wonder the kid has issues with all the crap piled in the corners that's been collecting dust for the past several years. And don't get me started on all the Star Wars Lego creations that you can't dust without them collapsing. Good Lord. I'm headed back in with a trash bag to tackle the closet. If I'm not out by weigh-in tomorrow, send reinforcements.
PS: Much love to Team Shrinkingjeans for their amazing 1/2 marathon on Sunday! I was literally glued to the PC watching them finish via webcam.
PPS: I am taking a grad class right now that required I make another blog (too bad I couldn't use this one!). I really need some comments on it before I can "turn it in". It is very bare-bones and deals with my job, but if you wouldn't mind checking out
http://speechdawgs.blogspot.com/
and leaving a comment or two, I'd be very, very grateful!