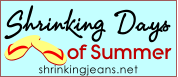 It's Wednesday, and we all know what that means! Let's get our stripped down booties over to the scale and hop on. Did you like what you saw this week? Did you expect the number that popped up (or hopefully down)? Here are my stats for the week:
Challenge Starting Weight: 146.8
Last week: 147.0
This week: 146.0
Change: down 1.0
Loss For Challenge: 0.8
Total Pounds Gone: 19.8
Would I have liked the results to be a little better? Of course, but I'm beginning to wonder if this is where I'm supposed to be, weight-wise, for awhile. I've been bouncing around the 146 mark for a few weeks, but I don't feel like I'm down as far as I'd like to be. I just think that maybe my body needs to hang out here for awhile. I haven't felt like logging my food and I've taken a bit of a break from the major amounts of exercise I'd been doing. I wish I had the strength to try intuitive eating like
Karena
, but I know I'm not there yet.
I have made some
crazy insane
commitments this week. I've started training for my next 10k, which will be in July and have plotted out a 1/2 marathon training plan to begin after the 10k.
Oh my fraking God what have I gotten myself into?
I was so inspired watching my Shrinkingjeans sisters (and everyone else for that matter) cross that 1/2 mary finish line in San Diego (via webcam-thank you to whoever planned that!) that I started thinking, "If they can do it, so can I". I am very scared of how my body will react and committing to the cost of the race if I can't physically complete it. I've been plagued by foot, knee, hip, IT, shin and calf issues. I even have some weird pain across my sternum that's been there for a couple months now and won't go away that is a bit worse after I run. I broke down today and bought a roller for the IT issues.
Holy mother of God does that sucker hurt!
I've also decided to try a different training program than the c210k app that I'd been using. You can check out my new 10k program
here
and the 1/2 program is
here
. I like that this one has distance goals vs. time goals for the runs and adds in cross training, strength and stretching. However, I'm at a loss as far as the strength training goes. Any suggestions would be most welcome!
I hope everyone else had a great week. I only have 2 more days of school left and then summer vacation starts! Sorry to rub it in, but I LOVE MY JOB!
Much Love,
Bari