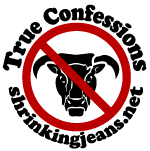 Oh my, is it Tuesday already? That means 1 more day before Weigh-In Wednesday. Oh crud. Time to confess our transgressions over at the
Sisterhood
.
I actually did pretty well this week, until Saturday when we went to a street party and I ate this:
and I drank this (a Beer Machiato - a collaboration between a local coffee spot and our local microbrewery. It was interesting, but actually pretty good once the layers combined):
I also drank this:
On Monday, we found a new place for lunch:
I had 2 hot dogs. Granted, they were turkey dogs, but one of them was still loaded with chili and cheese and the other had kraut, pickles and mustard. Can you say SODIUM?
For dinner Monday night, I made homemade pizza with bread machine crust. My section had turkey sausage, 'shrooms, peppers and black olives. Can you say MORE SODIUM?
Needless to say, I'm feeling very bloated today and am working on mainlining water to try to flush out some of the salt water. I did sweat out .8 lbs this morning with my workout, so hopefully the water today and tomorrow's run with knock out the rest.
I did get 17 miles in last week, between biking and running, plus some strength and stretching, so that has to count for something, right? How about you? How did you do this week? Head over to the
Sisterhood
and let it all out!
PS-I'd also like to confess that I SUCK at putting pictures on my blog. They never seem to go where I want them to go. If they look completely bizarre after I publish, I apologize for the seemingly random placements of my pictures this week. I tried. LOL. Thank you.