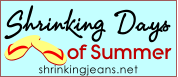 Before I go into my weigh-in post, I just need to say THANK YOU to everyone who has ever read my blog, posted a comment, chatted with me on twitter, supported me, or exchanged texts and emails with me. Today marks the 1 year anniversary of this blog! I didn't realize it until I looked back at my
very first blog post
to see what the date was when I posted my starting weight. It was exactly 1 year ago today. Thanks to all of you, I have lost just over 20 pounds, but more importantly, I've gained friendships that I will treasure for many years to come. I love you ladies!
Now, as I've done for the past 52 weeks, it's time to face the music. It's weigh-in day over at the Sisterhood. I'm not thrilled with my results, but at least it wasn't a gain. My goal of getting out of the 140's is seeming farther and farther off. I'm discouraged. I don't know if I've just lost motivation
I'm motivated to lose but I'm not doing what I know I need to be doing to make it happen.
It also seems by body is plotting to conspire against me
redundant, I know
. I had one of my best runs EVAH this week (3.1 miles in just under 33 minutes with no walking) but my foot and ankle have been sore ever since. I skipped my 2 mile run this morning (God produced massive thunderstorms here, so I think He was telling me to take the day off) and just did a couple strength workouts on exerciseTV. I think sweating it out with the strength training is the only reason I'm not up this week. Since I
moronically
weigh in every day, I know I gained 2 pounds between Sunday and Tuesday morning, but they were gone after my workout this morning. Humidity, salt, and water retention suck. IJS.
Here are my stats for the week:
Weight on June 23, 2009: 165.8
Challenge Starting Weight: 146.8
Last week: 145.2
This week: 145.2
Change: none, zip, nada, nuthin'
Loss For Challenge: 1.6
Total Pounds Gone: 20.6
Clearly, I need to make some changes if I want to get out of the 140s by my 40th birthday
which is now less than 2 months away, crap
. Maybe the 130's isn't a realistic goal for me right now, but I'd still like to see it happen. It just isn't going to happen without work and dedication. Areas which I fear I have become somewhat lax. I have not been logging my food, but will start again today. I really need to do more strength training. The running and cardio alone are not going to cut it. I could tell with my workout this morning how weak I've gotten. I loved the 30 day shred, but I've found I can't do the cardio portions while training for a race. It's just too hard on the old joints. I pay a fortune to belong to a gym, maybe I should go every once in a while.
Help me out, ladies! You've gotten me this far in the past year-don't let me crap out now!