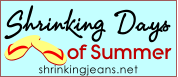 Today is Wednesday, the day we all shed our clothes,
trudge
step over to the scale, and bare our souls to our
sisters
. As I confessed
yesterday
, I had an amazing weekend hanging out with my dear friend Kirsten in Chicago, so I wasn't hopeful for a loss this week. That being said, there is definitely something beneficial to walking all over creation and going for a couple runs here and there.
Here are my stats for the week:
Weight on June 23, 2009: 165.8
Challenge Starting Weight: 146.8
Last week: 145.2
This week: 144.2
Change: down 1.0
Loss For Challenge: 2.6
Total Pounds Gone: 21.6
The debauchery in Chicago didn't do as much damage as I feared. I'm pleasantly surprised and happy with my little 1 pound loss. I definitely need to keep up with my 10k training (race is on 7/17). I've been getting the running and most of the crosstraining in, but have been piss-poor about the stretching and strength training. Must improve in that area (yes, I know I say this every week, maybe I'll start to listen to myself).
We've had a mini-challenge this week to journal our food choices and I've been doing that. Was not proud to state yesterday's dinner was 2 mini Heath bars, but that's what happens when your husband decides you are going to go visit friends and doesn't give you enough notice to pull together dinner for yourself after you've been working all day and then at gymnastics with your daughter and then trying to catch up on twitter and reader and then you go with him thinking your only going to visit for an hour or so and it's midnight when you head home.
I did manage to lose another 95 pounds or so today as well. Dropped my baby boy off at music camp this morning. He'll be gone for 12 days. I'm not sure whether to cry or celebrate. Right now, I'm going to celebrate and take his twin sister to see Eclipse. I'll cry tomorrow.