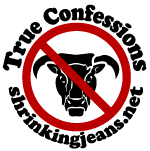 I have a lot to confess and not a lot of time to do it, so you just get the list this week:
•I helped my dad move this weekend which meant staying in an apartment with no food. Many meals out. I tried to make good choices but usually did not succeed.
•On moving day, my aunt provided food: sloppy joes dripping in grease as she doesn't believe in using lower fat hamburger, mayo-based pasta salad, potato chips, and cake.
•We ordered pizza for dinner one night and it wasn't veggie.
•We had leftovers of the above foods throughout the weekend.
•On Sunday we went to a party. Lots of alcohol and finger foods and dips with chips. Debauchery.
•On Monday there was more party food and beer
•Monday was also my hubby's b-day and I made brownies with ice cream and raspberry amaretto sauce. More debauchery.
I have to say I am very disappointed in myself. The scale this morning really reflected my poor choises and only proves I have a long way to go.
- Posted using BlogPress from my iPhone