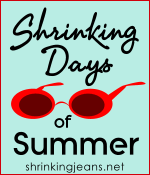 It's Wednesday, and you all know what that means. It's weigh-in day over at the
Sisterhood of the Shrinking Jeans
. It has been blazing hot here in Michigan all week, and no matter how much water I drink, I still feel as bloated as my hair from the humidity.
It ain't pretty, people.
Coupled with the humidity and last weekend where I spent many hours in the car, 2 days in a hotel, and "meals" at an arena to watch my daughter do this:
I was not thrilled to weigh in. I decided to suck it up and get on the scale, resulting in these numbers to start our new challenge:
Challenge Starting Weight: 146.8
Last Week's Weight: 146.0
This Week's Weight: 146.8
Change This Week: up 0.8
Loss for Challenge: N/A
Total Pounds GONE: 19.0
Considering how puffed up I currently feel, I'm not disappointed with those numbers, but I am excited to start this new challenge. Mini challenges along the way sound like a lot of fun. Outside of this challenge, I somehow
got roped into
volunteered to join the Sisterhood's own
Lissa
in a 10 day sit-up and push-up challenge! It's even been broadcast across twitter, so I guess I'm committed now (or should be committed for agreeing to this)! You know I love you @LissaJoy!
I wasn't planning to set any specific goals for this challenge, but I really, really, really want to be under 140 by August 15. That's my 2nd annual 39th birthday and the day we jet off to Disney to celebrate. Wouldn't you know that's just after this challenge will come to an end. Help me out, ladies! Surely I can lose 7 or 8 pounds in the next 10 weeks, right??????
I've also just started running again after my 1st 10k
just about killed my foot
left me feeling a bit injured. I was hoping to do another at the end of June and another in Mid July, but now I'm just hoping for the July one. It's in my hometown and a beautiful
course
along the bluffs so I hope I can stay healthy enough to run it.
So, friends, are you ready to shrink this summer? I know I am!