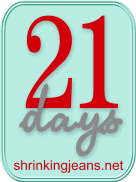 Challenge Starting Weight: 149.2
Last Week's Weight: 149.2
This Week's Weight: 145.8
Loss This Week: -3.4
Loss for Challenge: -3.4
Total Pounds GONE: 20.0 !!!!!!!!!!!!
It's weigh-in day over at the
Sisterhood of the Shrinking Jeans
and here are my results:
We are also working on establishing some new, healthy habits. They say it takes 21 days for a habit to form and we are 7 days into this
challenge
. Now, how am I doing on those goals I set for myself?
No late-night snacking: For me this meant no snacking after 9 pm. I'm happy to say I met this one every day, except for Saturday, which you can read about here.
Exercise at least 25 minutes every day: I probably set myself up for failure thinking I'd get in actual exercise EVERY day, but I have been physically active in some way and I'm sure if you add the minutes up, they total 25 or more each day I'm totally reaching here. Only a few of the days were actual workouts. I'm actually resting my body for my 10k this weekend. My right knee is a complete mess and it has me scared. I'm really hoping to finish that race under my own power and not by transport from the medics!
Keep running: Aside from the wonky, squishy, hyperextending knee, the running is going just ducky. I'm looking at the weather reports for Saturday and I am not happy thrilled at the thought of running in the rain, with temps in the high 30's and winds of 20 mph. It's gonna be GREAT! (That's my attempt to pump myself up). Speaking of running, did you know May is Runnng Month at the Sisterhood? You do now! So even if you don't think of yourself as a runner, you are hardcore McSpeedy, or you think you might want to give running a try, head on over to the Sisterhood and check it out. They're even giving away a pair of running shoes! Doesn't get much cooler than that.
To say
I'm
not happy with how this week has turned out weight-wise would be a huge understatement. I don't think I'd be where I am today without the love and encouragement of my shrinking jeans, bloggy, and twitter sisters. I love you ladies!
MWAH!
Bari