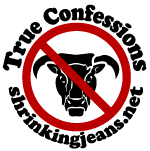 It is True Confession Tuesday over at the
Sisterhood
and these are my confessions:
Apparently in my mind this has given me carte blanc to eat whatever the hell I feel like eating. Boo!

This has also given me permission to not work out since Saturday in the thought that I needed to recover. (In my defence, my hip is still quite sore.) No excuses. Boo!

I have managed to still avoid snacking after 9 pm. Baby Woot!
I need to get back on track. 'Nuf said.
ps-there are some cool giveaways going on right now: