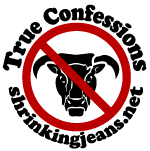 I really don't have much time today
and in all honesty had thought about not posting
so you all get bullet points. Lucky yous.
The Good:
I ran 17.82 miles last week, including my first ever group training run (8.27 miles outside in light snow). This also included my longest run without taking regular walk breaks. I ran the entire 8.27 except for walking thru the 2 aide stations the group had set up.
I did a total of 159 push-ups during the 1st week of the 100 Push-up Challenge. This was over 3 days and 5 sets each day, but DAMN - 159 push-ups!
I've been getting at least 64 oz of water in every day (usually more, but I don't keep strict tabs on the numbers).
The Bad:
The push-ups I'm doing are on my knees and I almost feel like I need to qualify that every time the app posts my numbers to twitter. I feel like I'm cheating but I'm afraid "real" push-ups will reinjure my stupid shoulder.
I've been uber stressed about a project (of sorts) at school and I've been stuffing my face with candy. The candy is almost gone. The project is just beginning.
I had a paczki today. I think I may have 1 more. *hangs head in shame*
I'm totally exhausted (physically and mentally) so my Daily Mile is still sitting at the Zero of Shame. I'm supposed to do a 3 mile speed workout today, but am scooting from here as soon as I hit "publish" to go to my son's last swim meet, then dragging him with me to the gym. I'm shooting for 1 mile 4x400 speed workout instead.
I've only done 1 NTC workout this week. I will do another tonight - or I will do the tworkout.
Two of my friends lost dear members of their families this week. (Prayers to Lisa and Barb.) Our church also lost 2 members (one very suddenly). This song was sung my our worship leader at one of the funerals. I hope it gives my friends some comfort as well.