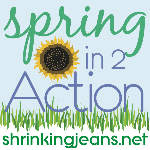 The Buff Brazen Bunnies (that would be
Kirsten
and myself) are checking in today with our stats for the first week of the Spring in 2 Action challenge over at the
Sisterhood of the Shrinking Jeans
. Let's revisit the goals I set for myself for this challenge, shall we, and see how I did.
Run 2-3 days per week as outlined in my 25k training plan.

Done and done well: I ran 17.4 miles since last Wednesday, including my fastest mile EVER yesterday during a 4x400 speed workout (8:30, baby!). Thanks to my awesome challenge partner for suggesting that workout as a sub to the 3 mile speedwork I was supposed to do but didn't have the time or energy to spare. I also did my first-ever group training run on Saturday. I hope to do another one this Saturday (10 miles - hold me) if the weather cooperates.

100 Push-ups Challenge 3x per week.

Doing great on this one as well. My highest number was the 71 I did this morning. (I'm doing girly-style and these are over 5 sets with a short 60-90 sec break in between sets, so don't think I'm some kind of push-up queen.) I am going to try to stay consistent with Monday-Wednesday-Friday for the push-ups.

Add 2 (or 3) Nike Training Club app strength workouts per week.

Eh. I did 1 15 minute NTC workout this week, plus I did the Tworkout last night. Need to get better on this one.

Really work on getting enough water.

I've been consuming at least 64 oz of water every day. Usually it's quite a bit more than this, but I don't keep track as closely as I could.
So there you have it. Not a bad start to the current challenge. And for those of you wondering where my weigh-in went, you aren't going to see it. I am officially in maintenance mode. I did weigh in this morning and I'm within my goal range. :)
So how did everyone else do this week? Any successes you want to share?