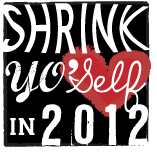 This week was supposed to go so much better for me scale-wise, but sadly the old habits of a glass
or 3
of wine and eating out took over. I'm back up 1.8 pounds this week (which actually puts me .2 HIGHER than the start of this thing, which totally pisses me off). However, I'm trying very hard to not let the number I see on the scale right now define who I am. Even at this weight, I'm running faster than I ever have before and I've started some serious strength training 2-3 times a week. I have to believe that those two things, coupled with trying to get my eating and drinking back under control, will result in my damn pants fitting again.
As for this week's assignments:
I have not yet completed my Letter to Me. I participated in this exercise the past two years and it was great. I have huge goals and expectations for this year, but I'm on the fence about writing the letter. Don't know why.
Vigorous exercise for 20 min 3x/wk or moderate for 30 min 5x/wk - holy hell, done and done! I'm still running at least 3 times per week (speed/tempo/long) and I've added in the Tough Mudder strength workout (that takes about 20 min) 2x per week (goal will be to get up to 3x per week and get thru the circuit twice). I've also been doing the Hundred Push-Up app again. (As a mildly worrisome aside, I've developed a weird pain in my foot, near the ball of my foot, center, just before the arch - I'm hoping it's nothing bad. Cross your fingers for me, m'kay?)
52 small changes The first week was about getting enough water and this past week enough sleep. The water is usually pretty easy for me. Sleep? I go to bed at a time that will get me 7-8 hrs, but I rarely sleep all the way thru the night.
Hopefully this week's workouts and wiring my jaw shut after 8 pm will reflect nicely on the scale next week. I'd really like to be a bit closer to goal weight when I run Tinker Bell in 2 1/2 weeks!
A side note: I have a most excellent giveaway starting tomorrow!!!! I can't wait for you all to hear about it, so make sure you come back a visit my blog and get entered :)