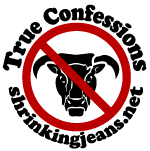 Today is Tuesday, and like every Tuesday for the past year or so (for me anyway), today is the day the wonderful ladies and gent over at The Sisterhood of the Shrinking Jeans have set aside for a little soul cleansing. A chance to look back at the previous week and fess-up if anything hasn't gone the way we'd originally planned.
I started out the week in a pretty ugly place. I'd hit a number on the scale I said I would never see again. Damn, it made me sad and I hate that a stupid number on the scale has that kind of power over my emotions. I had really upped my workouts and was feeling like a decent runner again (nothing crazy, but I was getting in some nice runs) and the scale was being mean.
The scale was mean because, even though I was exercising better, I was still putting all kinds of crap in my mouth. Candy, popcorn at the movies, little appetizer sausages, crap, crap and more crap. Since Sunday or so, I've been back on track. I'm getting my water in (and many, many trips to the bathroom, thankyouverymuch). I've tracked probably about 85% of my food (that's good for me). I had a kick ass run yesterday (although not as good as the hawt dude running 10 freaking MPH on the treadmill next to me - I still can't wrap my mind around that one). I've gotten some good Shred workouts in and if I don't feel like I'm dying tonight (I've been feeling under the weather all day), I'm going to Shred and Tworkout tonight too.
Today was an employee appreciation/holiday luncheon and I went home for lunch instead because a) I felt like poo, and b) the choices weren't all that healthy. I feel a bit bad about being antisocial, but I knew I couldn't eat what they were serving and expect to show a decent number on the scale tomorrow. I've worked too hard the past few days to blow it on one stupid lunch. I will get back to my goal range. Maybe not this week, but I will get there.
This week I decided I needed a mantra. During my run on New Year's Day, the Black Eyed Peas blasted through my earbuds and I heard the lyrics "Faster Harder Better Stronger" (from the song Boom Boom Pow, I believe). Granted, I don't think they were talking about running *wink, wink*, but this is my goal for this year. To strive to make every workout fit at least one of these words. How about you? Do you have some words that will get you to the next level? Fess up.
P.S. If you haven't had a chance and need some extra inspiration, check out
yesterday's post
that I wrote about my Dad. Leave a comment for him. Later this week, I'm going to assemble all the comments and email them to him to show him the love. Because he rocks and totally deserves it.